Walking the Dog Friendly Beach On the Forgotten Coast of Florida
My Dog Tidbit and I Walk Our Beach in Lanark Village, East of Carrabelle, Florida and Share the View with You
My dog Tidbit and I spend a good amount of time walking a stretch of beach along the Gulf of Mexico in Lanark Village, just a few miles east of Carrabelle, in the Florida Panhandle. The coastal region in which we reside is considered part of
Florida's Forgotten Coast
(a registered trademark).
Like most of the locals here (I transplanted from another area of the country) I am kind of glad this area has "forgotten" status. For instance: In the past year, Tidbit and I have walked on the beach nearly every day. I have seen only a dozen humans and only two other dogs on the beach during our time here - and I brought half of those people to the beach when they visited us from my old home state of Ohio!
We know you will enjoy the views we have captured on camera to share with you of our time well spent just a block from our home. Oh, and about these pictures... I am not, by any means a photographer. All photos were taken with my basic cell phone camera.
Unless otherwise stated, all images on this web page are the copyright of
Ruth Cox
. Please do not remove without my written permission.
Pier View
Tidbit Walks the Pier
That first day on what we now call "our" beach, Tidbit had to check out the pier and the sea birds, including a pelican, in the distant end, on the right. She was a bit hesitant, so we didn't go all the way to the end of the pier that first day. She would have many opportunities for walking the plank and chasing sea birds in the coming days.
What I found interesting about this photo is that the horizon is round! I have no idea why it turned out this way … Unless, maybe the earth really is round and we captured proof on camera right here in Lanark Village, Florida!
Pier Views
Walking the Pier With Tidbit

We got close but the seabirds fly away!

This evening there were hundreds of birds on our pier, several varieties, too. They let us get much closer before flying away this time.

Ah! This is my Cotton Candy Sunset! A variation of this is available for purchase in my shop at Zazzle.com/abitosunshine

The gulls were in the air with the clouds when we arrived at the beach on this day.

Tidbit has tired of sniffing seaweed critters and is now headed to see what's going on at the pier.
About the Florida Panhandle
History and So Much More
Redneck Riviera
Castle in the Sand
Gary P. Nunn sings "Redneck Riviera," one of the songs from Tom T. Hall's album, "Songs From Sopchoppy".

The town of Sopchoppy is about fifteen minutes from where I live. It takes but a few minutes to fly by the town on my way to the nearest Walmart store in Crawfordville, about a forty-five minute drive from my home.


World Oceans Day
Sunrise View
As you enjoy our sunrise view in haiku over the pier and sea, we ask you to give thought to what you can do to protect ocean views such as this one. Then, join us in celebration of
World Oceans Day
—forevermore.
Note:
Ocean Sunrise Pier View
, without haiku, is available for purchase as a 13″ by 11″ wrapped canvas in my Zazzle store.
Resting at Sea
Among the Old Ones
It was love and respect at first sight for Tidbit and the "Old Ones" as it was for me, too. Here she rests among them after a long walk on the beach. Tidbit is treated with respect by the Old Ones, as if she were one of the pack.
Yes, to most, these are old pier pilings. Tidbit and I, we know better, as we have heard their voices. They've many a story to tell the beachcombers of the sea.
Visits With the Old Ones
Storytellers of the Sea

Along the Gulf of Mexico live the Old Ones, those who live on to tell the stories of the sea to you and me.

Tidbit sniffs every bit of seaweed washed ashore on her way to visit her old friends.

My dog Tidbit sits among the Old Ones as if she is one of them. Some day she very well may be.

A look back before we leave the beach, always.

Tidbit stands among the storytellers of the Gulf. It appears as though they enjoy her company.
Voices of the Sea
Our Beach In Poetry
This particular poem was written after I had a long chat with the Old Ones about my aging dog Tidbit. I know that one day in the near future my girl, the canine mate of my soul, shall no longer stroll the beach with me, in body, but I am assured she will always be with me in the voices of the sea spirits.
As a poet, I am often inspired by the beauty of the beach to write a poem to go along with the photographs I have taken while my dog and I stroll along the seashore. Often I take a
walk in Haiku
with images of nature, too. I will add to this poetic representation of our dog walks on the beach often, so do return on occasion to see what's new we may be sharing with you.
Coastal Views in Pics and Poems
Enjoy the views we share with you in pictures and words.

Mother Nature's artistry seems to whisper words with every step we take along the planks of the pier--gracious ghost, our host of the coast.

This cotton candy colored ocean view of sunset inspired Dog of Sundown Sea Haiku poetry.

I truly believe that out of the darkness the sun shall always rise. I appreciated this dawn surprise of an early morning walk with Tidbit.

Another day rises out of the night, stretching its arms over land and sea in a heavenly embrace.
Kaleidoscope Sky
Chasing Rainbows
It is late Spring (2014) and
hurricane season
has arrived, as have the storms and ripping tides on the Gulf of Mexico shoreline. Seems appropriate for my dog and I, as aging Tidbit has had seemingly little desire for beachcombing of late. However, she surprised me one late afternoon with an insistent pull toward the Gulf shore.
Although I generally follow Tidbit's lead on our walks, I was worried she wanted to walk the beach but may not have the energy required. I let her go anyway. She led me straight to a kaleidoscope sky view—a rainbow!
The sky was a dappled blue and gray, the wind bellowed coolness to cloud the humidity, and the rainbow appeared to be chasing sea and shore.
Tidbit rested, not heading to the pier as she normally would. She stared at her old stump of a tree friend nearby. About the time I was wondering whether she would visit with her friend, she moved toward it, as if to listen to the voice of the elder one. After a few moments, she turned herself around and headed home.
Again following her lead, I couldn't help but turn back for another view of the darkening sky and just as I was about to curse it goodbye with a tear in my eye, it began to rain…just enough to drown me in my tears.
You see, I believe the rainbow to be a gift from the gods. Sure, it's a promissory note of a bridge between earth and heavens, but I also believe it to be a bridge between life and death, and that is why I curse the rainbow's symbolism of change on this date. I am not ready for the changes taking place in my and Tidbit's life, in our time on this earth together. Alas, I have little choice but to embrace the change, as my dog has done.
Tidbit so graciously accepts each day's gifts! Most importantly, she makes sure to share them with me, leading me to her understanding, as slowly but surely as she is able. And I follow her lead.
Elder Whisperings
Of Sky, Sea, and Shore

Tidbit rests beneath the colors of the rainbow hovering over land and sea.

Tidbit visits with her Elder friend, the old tree by the sea, as if listening to its whisperings.

Seemingly heeding the wisdom of the Elder, Tidbit makes an about turn and heads home.
Let There Be Light
Black Dog On a Dark Path
A black dog on a pathway to and from the beach is difficult to see through the eye of my inexpensive cellphone camera. Since I wanted you to see Tidbit strolling along in the tree-lined shadows on her way home, I added a touch of light to the image with my
Corel PaintShop Pro
photo editing software.
Of course, I also decided to pen a poem for the before and after images. And oh! This poetic creation qualifies for
Day 5 NaPoWrimo 2014 Poetry
challenge wherein I am committed to writing a poem a day throughout the month of April for National Poetry Writing Month. Enjoy the views and the readings!
One of the Pack
Oh! Come to think of it, she IS one of the pack! You can visit Tidbit right here on PACK, a magical place just for dogs and those who love them.
Dog Donations
My dog Tidbit wants you to know that this web page automatically donates a portion of its earnings to
First Coast No More Homeless Pets
. FCNMHP is located in Jacksonville, Florida!
It is an honor to be able to contribute to this worthy cause through the Squidoo Charity Partners Program.
Squidoo Rocks! Come
write with us
!
Purple Star Sea
Look what appeared on the pier!
One never knows what one might see
Engulfed in a day of light fog
Found upon
Squidoo's Purple Star
sea
An award for Tidbit, my dog.
Received on April Fools' Day of 2014
Thank you, Squidoo! 'Tis beachy keen!
And another delightful surprise came Tidbit's way
On April 2nd, we were honored by
Squidoo Lens of the Day
!
Florida Butterflies
You can also find Ruthi and Tidbit chasing butterflies on Florida's Forgotten coastline!


Beachcombers Sign In
Share something beachy keen!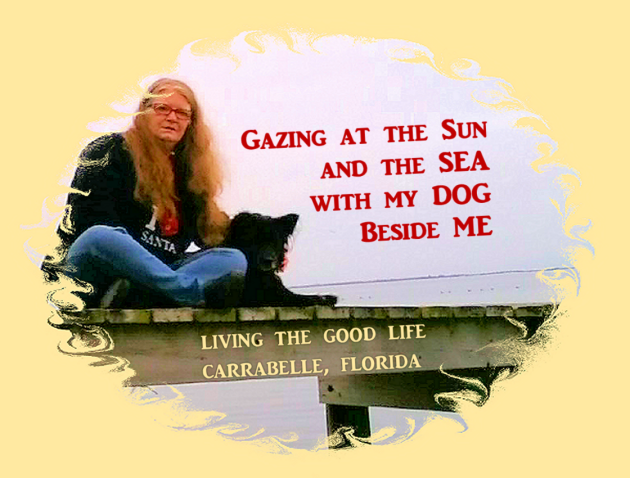 Gazing At The Sun Postcard by abitosunshine
Have you walked the beaches of the Florida Panhandle (or any other beach) with (or without) your dog?
Love Dog Walking the Beaches
This module only appears with actual data when viewed on a live lens. The favorite and lensroll options will appear on a live lens if the viewer is a member of Squidoo and logged in.